It is the first beautiful and charming variety in our series of colour changing Hydrangeas.
It has a tender, soft pink initial colour (phase 1). After 4-6 weeks the flowers begin aging to green and 4-6 weeks after that, the flowers change into a cherry red colour that will last until frost sets in.
At first the florescence looks like a lacecap but later on a totally full flowerhead resembling a mophead developes. Everyday you will see something new in this special Hydrangea.
The Hobella is suited for:
| | |
| --- | --- |
| | Indoor plant, preferably phase 1 and 2 |
| | Garden plant, in all phases |
| | Container plant, in pot or tub, in all phases |
The flowers are also excellently suited for use as dried flowers. Click for more extensive information about the making of dried flowers.
The 'Hobella' needs much light, especially when used as an indoor plant. For the flowers to change colour, the plant needs much energy and therefore lots of light. Hot, direct sun makes the flowers wilt and even burn!
Indoors: The most suitable position is in a window with bright light, but not in direct sun. Ideal temperature is 15-20° C, away from draughts.
Outdoors: Place 'Hobella' where it will receive the morning and/or evening sun, protected from fierce midday sun. Some suitable locations would be by a wall, shed or in light shade provided by larger plants. If there is clay soil in your garden, you can improve it by mixing 1 part of the clay with about 3 parts of good soil using, for instance, Rhododendron compost (acid peat) in a large planting hole.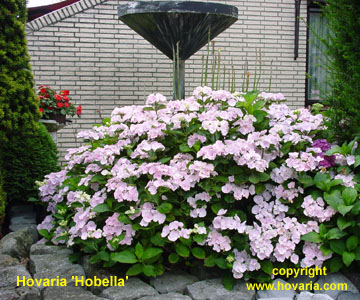 Because the breeders, Koos and Wilko Hofstede, do think their Hobella is so special and that other people will be moved by it, they have written a poem for 'Hobella' which reflects their feelings for their first "baby".

If you don't see an index on this page, please click here
Created by Koos and Wilko Hofstede Copyright © 2000-2004. All rights reserved.
Last modified 20 May 2004